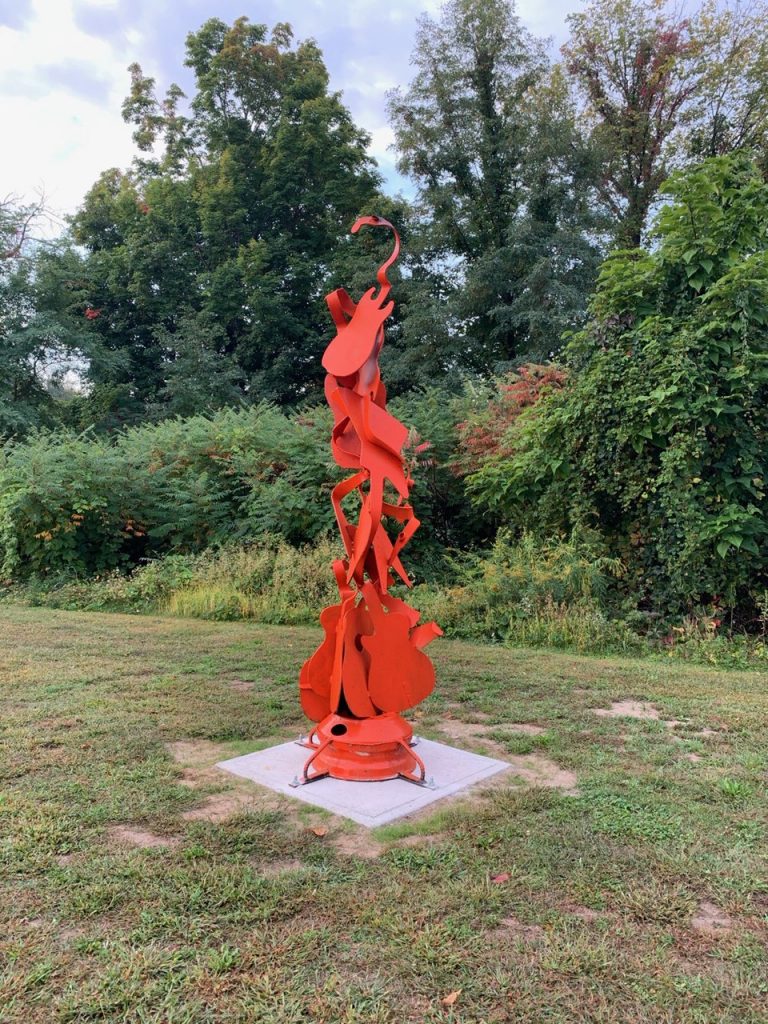 In the fall of 2013 Matt Johnson's sculptural bike racks "Guitar Icons" were installed in the heart of the Cottage Street Cultural District at the public parking lot. The two iron sculptures captured the forms of eight recognizable guitars, reflecting the vibrant musical activity of Cottage Street.  "Those familiar with guitars will know that these silhouettes represent the Gibson Les Paul, the Martin D-30, and the Fender Stratocaster", Johnson said at the time.
Almost immediately, both Guitar Icons bike racks caused unwanted attention for the artist and Easthampton City Arts (ECA) alike. Both bike racks were repeatedly hit by automobiles, repaired, then reinstalled, only to be hit again. After the third incident, ECA decided to have Matt take the sculptures home, repair the damage and wait for the Public Art Subcommittee to find a safer spot to install them within the City.
Within that time Matt came up with his own solution and proposed that he would redesign, combine, and transform the two racks into one larger sculpture appropriately called "Fender Bender".
With the help of Easthampton's Parks and Recreation Department, "Fender Bender" was installed in the summer of 2019 at Millside Park on a grassy knoll to the right of the bandstand. Its new home is infused with the same vibrant musical activity as Cottage Street and gratefully not as much destructive possibilities.
Matt Evald Johnson was born in Los Angeles and bounced around the country as a child following his father's career as a professional athlete. After receiving a BFA in painting from the University of Houston, Johnson went to New York City where he received his MFA at Pratt Institute. He moved to Easthampton in 2005. He and his wife Bonnie run Wedge Works on Cottage Street, a craft and gift gallery featuring Matt's one-of-kind tables, chairs, vases, lighting, shelving and cabinets.
To learn more about the original project, click the image below.