Open Call for Public Art
The Ferry Street Gateway to the Mills

ANNOUNCING…
Easthampton City Arts (ECA) and the ECA Public Art Subcommittee are pleased to announce a request for proposals (RFP) for its newest public art initiative, The Ferry Street Gateway to the Mills. This project is a collaboration with the Realtor Association of the Pioneer Valley and is funded by a Placemaking Grant through the National Association of Realtors (NAR), with additional funding and support provided by the Massachusetts Department of Transportation, the Easthampton Planning Department, and Easthampton City Arts. 
Project Overview & Scope
For more than 15 years, Easthampton City Arts and the Easthampton Planning Department have recognized the value and potential of public art as a meaningful activator of underutilized public spaces throughout the City—and throughout this time, have worked together to implement and bring to life a growing collection of public art throughout downtown Easthampton. For its newest public art initiative, ECA will create a "pocket park" at the Ferry Street entryway to Millside Park that will consist of the following components:
A new, original, artist-designed and fabricated public sculpture

(this RFP)

;

Public seating;

Wayfinding signage;

an artist-designed and fabricated bike rack.
 *PLEASE NOTE: This RFP is seeking proposals for an original, artist-designed and fabricated public sculpture ONLY. Please read the following overview and guidelines carefully and see the site photos below for additional information.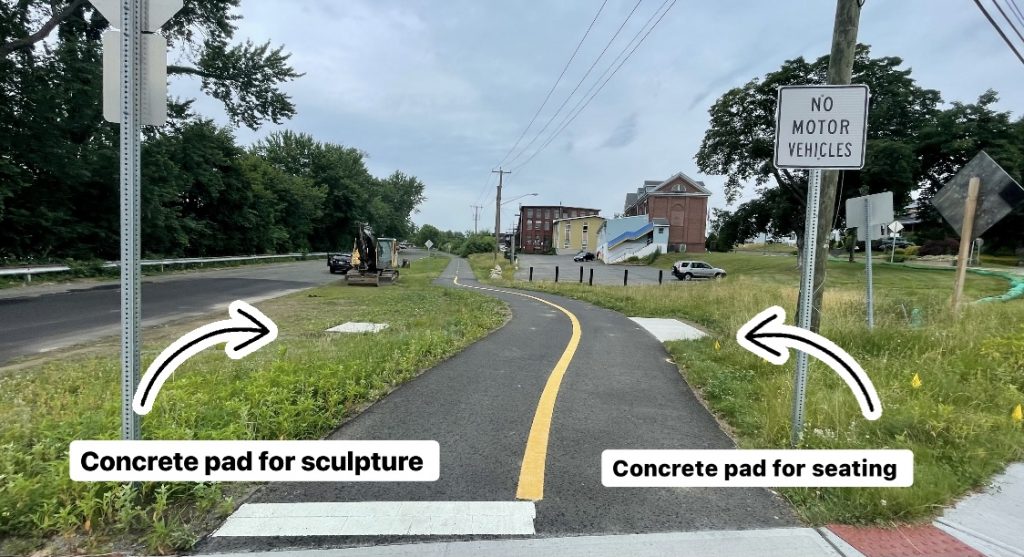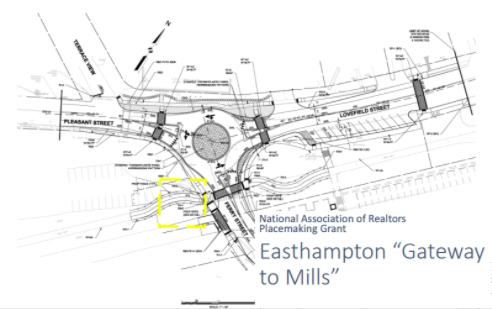 Context & Background
The location of The Ferry Street Gateway to the Mills is deeply significant, both historically and with regards to its cultural meaning and significance today. Originally Nonotuck land, with inhabitants and visitors from Norwottuck and Pocumtuck tribes, this particular site, its nearby rivers, and the surrounding area were benchmark locations for hunting, fishing, and connectivity to a broader, regional water-transportation network.
In the early-to-mid 1800's, mill buildings were built alongside Easthampton's ponds and waterways, which were dammed and utilized to power the mills. Easthampton's mills were all primarily connected to the textile industry and included the production and fabrication of buttons, elastics, and rubber that were all used to create clothing and shoes—and largely remained in operation as national and global factories through the 1970's.
However, as industry moved away from the Northeast, the mills became underutilized and rundown. Beginning in the late 1980's, redevelopment and repurposing of these historic mill buildings began and continues to this day. Easthampton's multi-use mill buildings currently support a wide range of businesses, community organizations, and artist studios—of which 51% are considered to be "creative operations and initiatives", according to a 2019 survey by the University of Massachusetts Landscape Architecture & Regional Planning department.
Furthermore, this particular site also serves as the closest entryway to Millside Park, which draws thousands of community members each year, through daily use of the park and the Manhan Rail Trail as well as local outdoor concerts, performances, and film screenings.
While ECA and the ECA Public Art Subcommittee have designed and crafted this "call to artists" with the intentional omission of a specific theme, we recognize the value and opportunity that this RFP presents to acknowledge and honor the complex and integrated histories of this location in meaningful ways for all residents and visitors. We also recognize the value and potential of public art to serve as a platform for community engagement and education—and we welcome and encourage a broad, diverse range of content in the incoming proposals and applications.
Honorarium
The selected artist will receive a $5,000 honorarium that must cover all costs, including design fee, materials, fabrication, transportation, and installation. Half of the honorarium will be given to the selected artist upon their execution of the Artist contract. The balance will be paid following installation of the sculpture.
Please note that the selected artist must provide a W9 form in order to be paid by the City of Easthampton and that payment processing requires up to 4-5 weeks after the necessary paperwork is submitted to the City Auditor's office. 
Sculptural Guidelines & Specifications
This is a site-specific work. Be mindful of the location, its history, and current day use.The selected artist is responsible for costs of design, fabrication, delivery, and assisting in installation of the sculpture to the designated location on schedule.

The selected artist will be responsible for maintenance of their sculpture for one year.

Selection criteria will include but is not limited to: aesthetics, site specificity, originality, safety, feasibility, and durability.

The selected sculpture will be attached to a 4' x 4' concrete foot pad, located within a grass-covered median at the Ferry Street entrance to Millside Park (see attached photos). 

The proposed sculpture design must include a base (with measurements and specifications) that can be safely and securely attached to the 4' x 4' concrete pad, which is 5 inches thick. 

Design must include visual detail(s) with specification notes of how the sculpture will be securely installed to the 5-inch thick concrete pad.
The use of environmentally friendly materials and finishes is encouraged. Sculpture materials and finishes should be: 
Durable 

Easy to maintain and install 

Theft and tamper-resistant 

Resistant to cutting/sawing with hand-held, non-power tools 

Graffiti-resistant 

Non-flammable

Materials should not have sharp edges or features likely to cause injury
ECA Responsibilities
ECA will coordinate installation with the selected artist and the City of Easthampton.

ECA will provide a contract and payment to the selected artist.

ECA will announce and publicize the selected design.
Selection Process
The

Ferry Street Gateway to the Mills

selection committee will consist of the City Arts Coordinator and members of the ECA Public Art Subcommittee, with additional representation from the City Parks Commission and the Manhan Rail Trail Committee.

Selection criteria will include aesthetics, interactive components, originality, safety, and durability. 
Eligibility
This RFP is open to all applicants, 18 years and older.

ECA is actively committed to supporting art and artists from historically underrepresented and marginalized groups of people. BIPOC (Black, Indigenous, Person of Color), Queer, and Trans artists are strongly encouraged to apply.

Applicants can be based anywhere, though local and regional applicants will be prioritized.

Previous experience with designing and fabricating public art—and public sculpture in particular—is strongly encouraged and recommended, though is not necessary.

All designs and proposals for public sculpture must be feasible and structurally-sound, by design; applications that are not feasible nor structurally-sound will be removed from consideration.

Applications will be accepted through Easthampton City Arts' website and can also be mailed or delivered to: Easthampton City Arts 50 Payson Avenue Easthampton, MA 01027 ATTN: Ferry Street Gateway to the Mills.

The selected artist must be able to provide a W9 form in order to be paid by the City of Easthampton.

Please note that applications that do not meet the guidelines and submission requirements may be disqualified.

The selected artist must also be able to strictly follow the timeline outlined below.
Timeline
July 2021
Announce RFP w/ press release, ECA newsletter, and social media channels
 September 8 @ 11:59pm
Deadline to apply
September 2021
Application review; finalist is selected
October 2021
Selected artist is announced
October – January 15, 2022
Fabrication of public sculpture and contracting with artist
First payment installment is issued for 50% of the honorarium
February 2022
Artwork is installed
Payment balance is issued to artist upon the completion of the installation of artwork
February 2022
Public Unveiling & Community Celebration
ECA Mission & Core Values
Easthampton City Arts (ECA) is a city organization that creates positive, innovative, and accessible arts programming and cultural events to generate and increase opportunities for artists and the local economy. ECA's core values are to: 
       

CULTIVATE a welcoming, supportive, and inclusive environment for ECA artists and the greater public;
       

PARTNER with local businesses and community organizations to create dynamic, integrated arts and cultural programming to activate downtown Easthampton and beyond;
       

WORK IN COMMUNITY to secure funding and resources to support local artists;
       

EMBRACE the rich history of greater Easthampton and the social and cultural diversity of our community;
       

PROVIDE free, affordable, and accessible programming for people of all ages.
 *For more information about Easthampton City Arts, please visit www.easthamptoncityarts.com
Artist Agreements
The selected individual must comply with program guidelines. As with all ECA & City programs, the individual can submit invoices once they have fulfilled the requirements of their agreement. Please note that a W9 is required for payment to be issued and checks can be expected to arrive approximately four weeks after paperwork has been processed.
Contact
Please direct all inquiries regarding this open call for public art to Pasqualina Azzarello, City Arts Coordinator: pazzarello@easthamptonma.gov. *Please note that inquiries must be received by the end of day Monday August 30, 2021 to ensure a timely response ahead of the application deadline.