Open Call for Public Art
Celebrating Service: Honoring Our Volunteers

ANNOUNCING…
Easthampton City Arts (ECA) and the ECA Public Art Subcommittee are pleased to announce a request for proposals (RFP) for their newest public art initiative, Celebrating Service: Honoring Our Volunteers. This project is being generously funded by the Massachusetts Cultural Council, the Collaborative for Educational Services, and the American Rescue Plan Act (ARPA). 
Project Overview & Scope
For more than 15 years, Easthampton City Arts—in coordination with several municipal and community entities—have recognized the value and potential of public art as a meaningful activator of public spaces throughout the City. Throughout this time, ECA has partnered with many of these groups to implement and bring to life a growing collection of public art throughout downtown Easthampton. 
For its newest public art initiative, ECA will support an artist or an artist-team to create an original public sculpture that clearly, explicitly both honors and celebrates the past, present, and future of volunteerism in the arts and cultural sectors in the City of Easthampton. The sculpture will be installed along the Nashawannuck Pond Promenade in the heart of the Cottage Street Cultural District in Easthampton, MA. The City's Cultural District is a consistently bustling area and is home to many local businesses, artist studios and cultural organizations, as well as public greenspace. 
Context & Background
The vital arts and cultural efforts in the City of Easthampton are the direct results of dedicated and hardworking volunteers. In fact, it was through a years-long coordinated volunteer effort that Easthampton City Arts itself came into being—and to this day, ECA continues to engage with more than one hundred volunteers each year. These volunteer efforts serve to support the overall vision and direction of our organization as well as help to bring our programs, festivals, and community initiatives to life. In addition to accomplishing so many tangible tasks—like serving on our City Committee & Subcommittees and helping events like Art Walk, Poetry Day, and the Easthampton City Arts Festival run smoothly—these efforts also serve to cultivate an environment where community members are deeply invested in local arts and cultural initiatives. Furthermore, the sheer number of volunteers in our community help to ensure that ECA's programming is free and accessible for each and every person who wishes to participate. 
Acknowledging, honoring, and celebrating our volunteers has been a longtime practice of Easthampton City Arts. Prior to the pandemic, ECA hosted an annual gathering to honor and celebrate the volunteers in our community and offered two awards: the Debra Tautznik Volunteer Award (formerly known as the ECA Volunteer Award), which honors those who have generously dedicated their time and energy to Easthampton City Arts initiatives—and the Pioneer Valley Community Buzz Award which recognizes the individuals and communities that have impacted the exciting cultural advancements throughout the region. Building upon this history, we are proud to extend our appreciation of our dedicated volunteers and their exceptional efforts through the platform of public art and with this public sculpture. 
In addition to honoring the past, present, and future of volunteer efforts in Easthampton's arts and cultural community, this public sculpture is a heartfelt tribute to two dear and beloved community members, Debra Tautznik and Denise Herzog, whose lives were sadly lost too soon. Debra and Denise were each artists and long-standing members of Easthampton's creative community, dedicated volunteers, and true champions for the city. We continue to be inspired by their efforts, their characters, and their memories and we have created this opportunity in their honor. 
LOCATION & SITE PHOTO
The location for the sculpture will be on the concrete pad to be installed, located on the Nashawannuck Pond Promenade on Cottage Street in Easthampton, MA.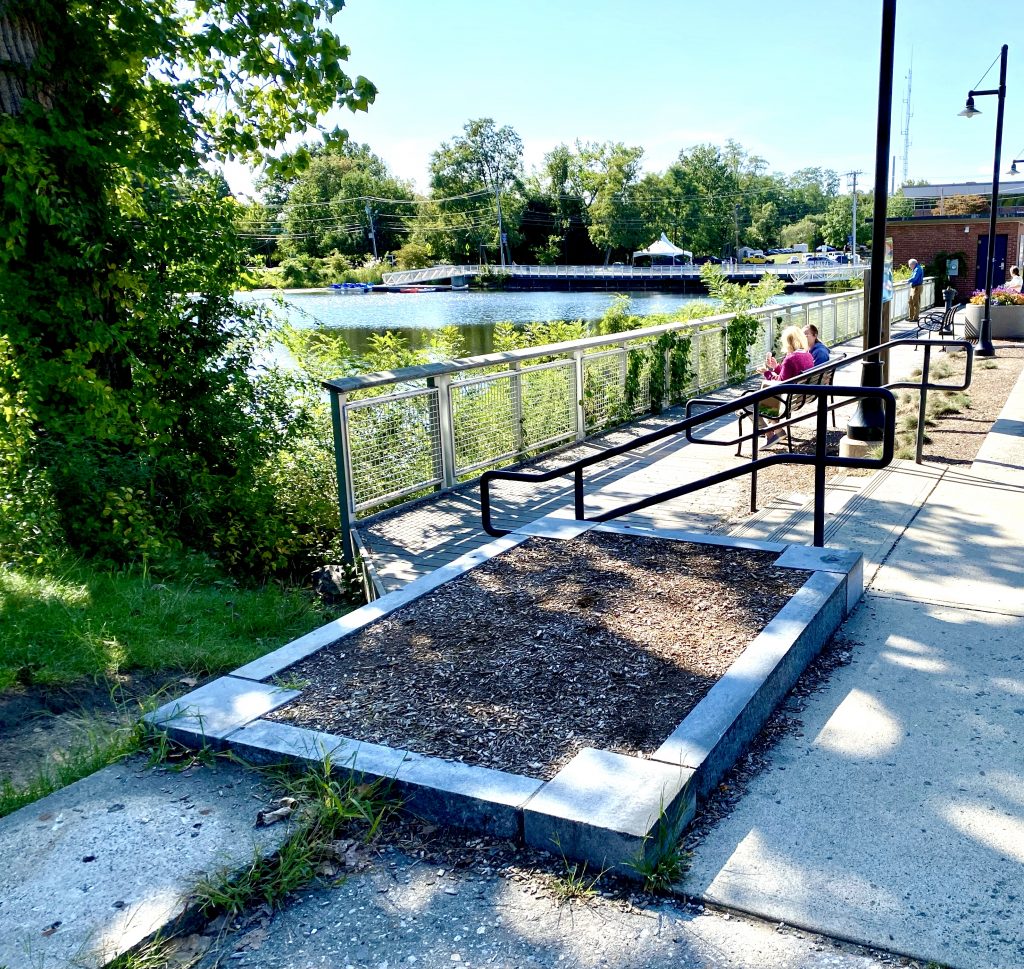 Honorarium
The selected artist will receive a $10,000 honorarium that must cover all costs, including design fee, materials, fabrication, transportation, and installation. Please note that the selected artist must provide a W9 form in order to be paid by the City of Easthampton and that payment processing requires up to 4-5 weeks.
Sculptural Guidelines & Specifications
This is a site-specific work dedicated to the idea of volunteerism in Easthampton. Be mindful of the location, its history, and current day use. 

The selected artist is responsible for costs of design, fabrication, delivery, and installation of the sculpture to the designated location on schedule.

The selected artist will be responsible for maintenance of their sculpture for one year.

Selection criteria will include but is not limited to: aesthetics, adequacy of response to the theme of volunteerism, site specificity, originality, safety, feasibility, and durability.

The selected sculpture will be attached to a

5' x 7'-4"

plinth, located along the Nashawannuck Pond Promenade on Cottage Street in Easthampton, MA (see attached photos). Please note, the sculpture must be able to attach to a 4'-2" x 6'-6" concrete pad (the concrete pad is surrounded on all sides by a 4" wide granite curb with a 6" height reveal). The sculpture itself may not exceed the footprint of the plinth. 

The proposed sculpture design must include a base (with measurements and specifications) that can be safely and securely attached to the 4" thick concrete pad. 

Design must include visual detail(s) with specification notes of how the sculpture will be securely installed to the concrete pad as outlined above.

The use of environmentally friendly materials and finishes is encouraged. Sculpture materials and finishes should be: 

Easy to maintain and install 

Theft and tamper-resistant 

Resistant to cutting/sawing with hand-held, non-power tools 

Graffiti-resistant 

Non-flammable

Materials should not have sharp edges or features likely to cause injury
ECA Responsibilities
ECA will coordinate installation with the selected artist and the City of Easthampton. Selected artist will be responsible for paying for the cost of installation.

ECA will provide a contract and payment to the selected artist.

ECA will secure the pouring of the concrete pad at the base of the sculpture. 

ECA will announce and publicize the selected design. 

ECA will create a page on the ECA website to showcase this work.
Selection Process
The selection committee will consist of the City Arts Coordinator and members of the ECA Public Art Subcommittee, with additional representation from the Cottage Street Cultural District, the Easthampton Department of Parks & Recreation, and others. 
Eligibility
Applications will be accepted through Easthampton City Arts' website and can also be mailed or delivered to: Easthampton City Arts 50 Payson Avenue Easthampton, MA 01027 ATTN:

PUBLIC ART.

Previous experience with designing and fabricating public art—and public sculpture in particular—is strongly encouraged and recommended, though is not necessary.

This RFP is open to all applicants, 18 years and older.

ECA is actively committed to supporting art and artists from historically underrepresented and marginalized groups of people. BIPOC (Black, Indigenous, Person of Color), Queer, and Trans artists are strongly encouraged to apply.

Applicants can be based anywhere, though local and regional applicants will be prioritized.

All designs and proposals for public sculpture must be feasible and structurally-sound, by design; applications that are not feasible nor structurally-sound will be removed from consideration.

The selected artist must be able to provide a W9 form in order to be paid by the City of Easthampton.

Please note that applications that do not meet the guidelines and submission requirements may be disqualified. 

All designs and proposals submitted for this RFP will remain the intellectual property of the artist(s) that submitted them. However, ECA reserves the right to display any and all submitted designs/proposals in a gallery show, on their website, and/or in print media as publicity for the artists and/or ECA. 

The selected artist must also be able to strictly follow the timeline outlined below.
Timeline
January 2023
Announce RFP w/ press release, ECA newsletter, and social media channels
March 15th, 2023 @ 11:59pm
Deadline to apply
April 2023
Application review; finalist is selected
May 2023
Selected artist is announced
May – September 2023
Fabrication of public sculpture and contracting with artist
Fall/Winter 2023
Artwork is installed
Public Unveiling & Community Celebration
ECA Mission & Core Values
Easthampton City Arts (ECA) is a city organization that creates positive, innovative, and accessible arts programming and cultural events to generate and increase opportunities for artists and the local economy. ECA's core values are to: 
       

CULTIVATE a welcoming, supportive, and inclusive environment for ECA artists and the greater public;
       

PARTNER with local businesses and community organizations to create dynamic, integrated arts and cultural programming to activate downtown Easthampton and beyond;
       

WORK IN COMMUNITY to secure funding and resources to support local artists;
       

EMBRACE the rich history of greater Easthampton and the social and cultural diversity of our community;
       

PROVIDE free, affordable, and accessible programming for people of all ages.
 *For more information about Easthampton City Arts, please visit www.easthamptoncityarts.com
Artist Agreements
The selected individual must comply with program guidelines. As with all ECA & City programs, the individual can submit invoices once they have fulfilled the requirements of their agreement. Please note that a W9 is required for payment to be issued and checks can be expected to arrive approximately four weeks after paperwork has been processed.
Contact
Please direct all inquiries regarding this open call for public art to Pasqualina Azzarello, City Arts Coordinator: pazzarello@easthamptonma.gov. *Please note that inquiries must be received by the end of day Tuesday October 18, 2022 to ensure a timely response ahead of the application deadline.