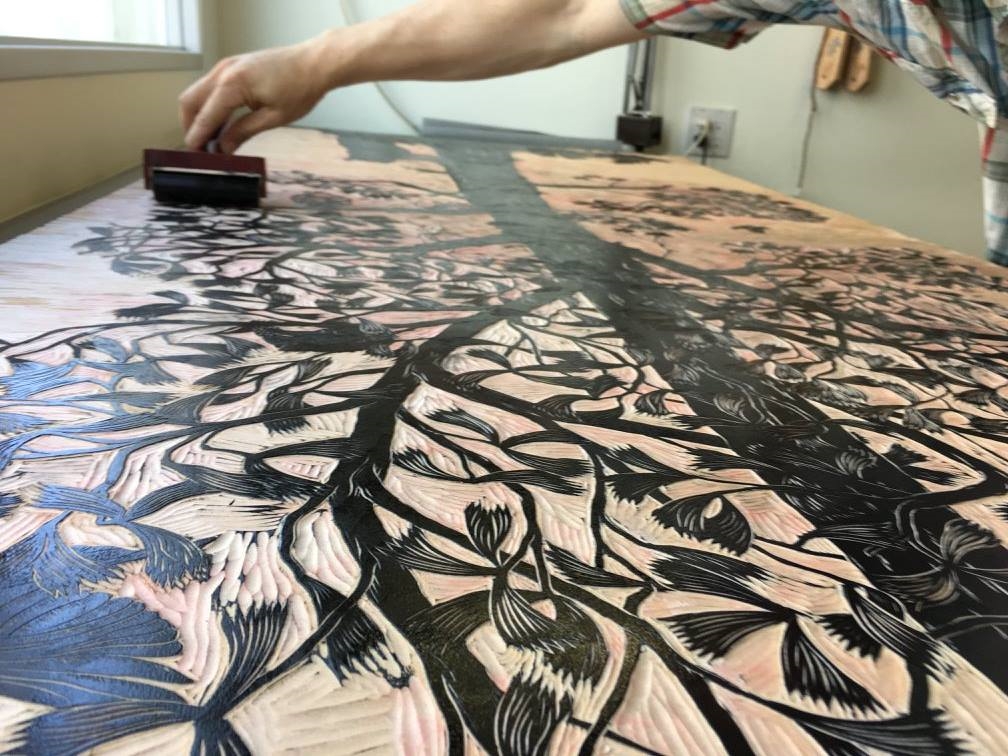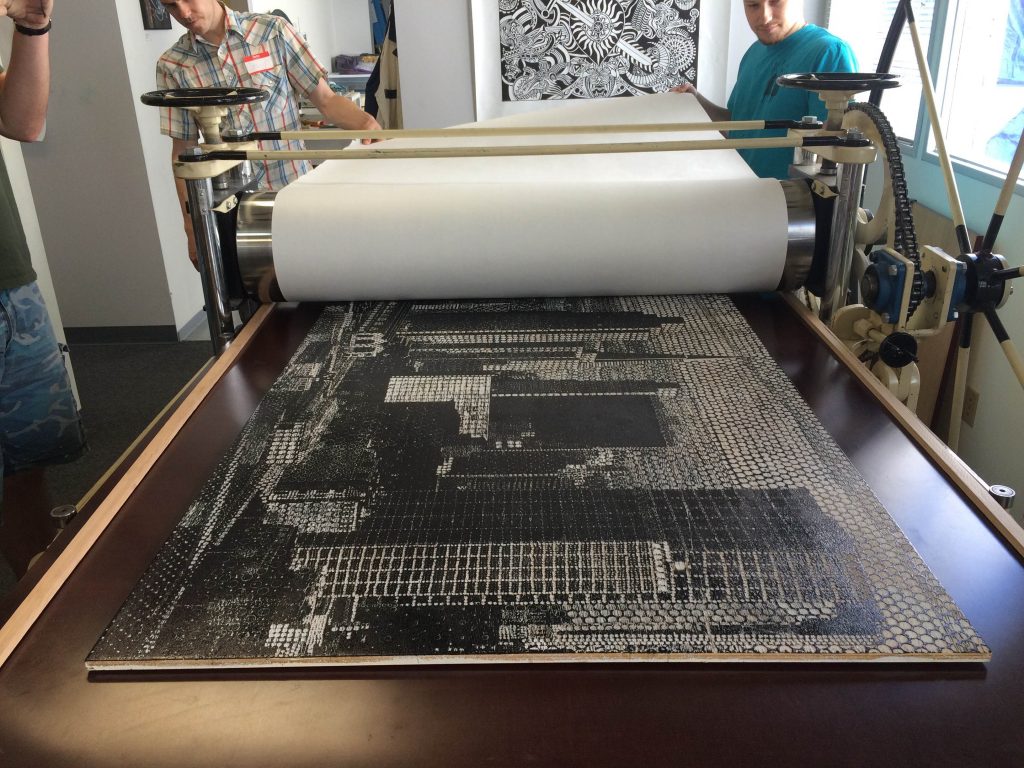 Easthampton, MA July 9th, 2016 – Witness BIG INK's one-of-a kind giant mobile press in action as we demonstrate large scale woodcut printing for the public in front of Old Town Hall at 43 Main St. from 12 pm – 7 pm.
BIG INK organizes print related programming for museums, art festivals, as well as local and national recognized print studios. This is the first time BIG INK tours Easthampton bringing a portfolio of larger-than-life prints created by artists at similar events across the United States.
"We're excited to show Easthampton residents how this traditional art form is being practiced in new and exciting ways," said director Lyell Castonguay. "We're essentially bringing the artists' studio directly to the community."
This event is made possible by a dual partnership between BIG INK, Easthampton City Arts+, and Shark Tank Tattoo of Easthampton. Tattooists from Shark Tank and Bang Bang Body Arts of Northampton will join several artists from throughout New England in carving woodblocks to be printed during the day by BIG INK's volunteers.
Woodcut is a printing process that involves carving an image into a flat wood surface. The areas that display 'white' or as highlights are cut away using a chisel which leaves the original surface level to define the image as 'black'. The surface level of the wood is then covered with ink by way of a roller. The wood is impressed into paper, transfers the ink, and results in a finished print.
"It's a day-long celebration of the graphic arts here in the Pioneer Valley," said Easthampton artist Peter Cangialosi. "When you bring your artmaking into a public forum like BIG INK does, you really get to meet the community, and I'm thrilled to participate."
##
BIG INK brings together artists and community organizations to produce large scale black and white woodcuts for exhibition and educational purposes. We are passionate about fine art printmaking and by uniting under a common cause we ensure a bright future for the medium. For more information, visit www.bigink.org or call Lyell Castonguay at (207) 576-9356.