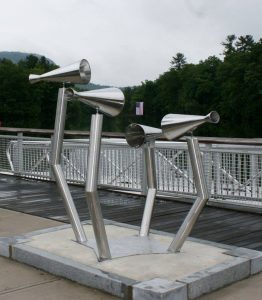 Easthampton City Arts+ kicks off the Cultural Chaos 2016 Street Festival at noon on Saturday, June 11 with a ribbon cutting ceremony for Brendan Stecchini's interactive sculpture on Easthampton's Promenade Park. Stecchini's stainless steel sculpture, "Center of the Universe," is an exciting addition to the Cultural District's permanent public art installations. The piece was funded by a Cultural District Grant from the Massachusetts Cultural Council and the Realtors Association's Creative Placemaking Grant.
ECA+'s Public Art committee chose Stecchini's design "Center of the Universe" from a competitive pool of applicants. The call for proposals explained the jury's preference for interactive designs. "As soon as I saw the word interactive I got excited," said Stecchini. "Since my artwork tends to be fun." His design combines four highly-polished, megaphones mounted at different heights and angles to a base engraved with a solar compass to indicate the four directions. The artist hopes that people of all ages will stand at the center of the sculpture, using the megaphones to speak out to the world, while simultaneously reflecting on the great scale and magic of the universe surrounding them.
Brendan Stecchini of Belchertown, MA has enjoyed an active and successful artistic career, complete with many public art installations. Last year his installation, "Steel Chimes: Oshkosh" received a first place award from a panel of professional jurors at Fruitlands Museum's Art in Nature exhibit. Other work includes, "Boom" a kinetic steel sculpture installation, featured at Hamden Gallery in the Fine Arts Center at the University of Massachusetts in Amherst.
Cultural Chaos, a street festival with a twist, runs from 12 to 7 p.m. on June 11, 2016 on Cottage Street in Easthampton, Massachusetts. The theme of this year's festival is "Carnival." The festival celebrates the diversity of the cultural assets found in Easthampton and its Cottage Street Cultural District. The festival is free and open to the public.
Photo Credit: Elaine Anne Wood