Written by Exhibiting Artists: Gillian Haven Duda and Elizabeth Slade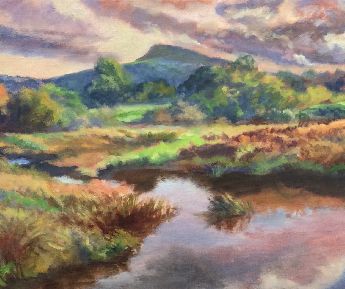 We live in a shifting world, each of us stitching together our life story from fleeting moments of illumination and grace. Through the practice of painting and drawing, we celebrate the act of being alive, while seeking to evoke the complexity and richness of this journey.
There is inspiration in the landscape. Both of us have sought to find the landmarks of the region that provide a touchstone amidst change. They have a story and continued relevance that we must not lose.
Gillian: The patchwork quilt motif that appears in my work allows me to consider the many images and memories a location inspires. I juxtapose local scenes with more detailed renditions. It is through the details of the world close at hand that we catch a glimpse of something more enduring.
Elizabeth: Working in pastels allows me to explore my love affair with the sky. The changing nature of it, unpredicatble yet reliably always there, asks me to step closer to my own nature, to embrace change rather than resist it. The landscape of the valley and the seascapes of Martha's Vineyard are my roadmap in this process.