Visual Confections at Kawaii Supply
December 8, 2018 @ 4:00 am

-

12:00 pm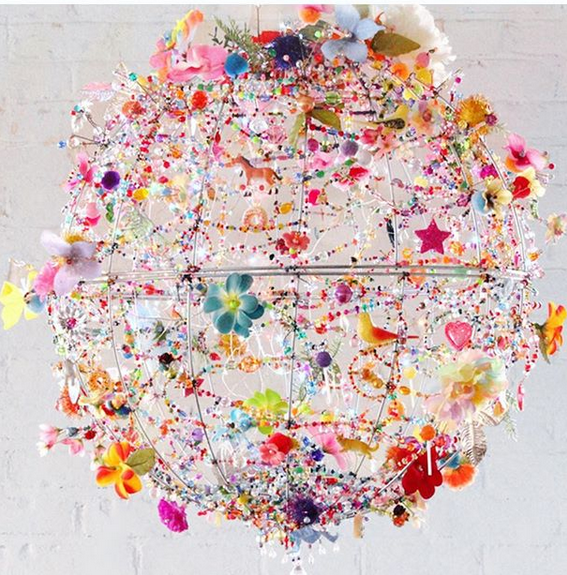 Now through the Holidays on display in the windows of Kawaii Supply 52 Union St. Easthampton!
"I create my Visual Confections from a range of materials including vintage and found objects, faux candy, artificial flowers, glass and plastic beads, and my personal collection of miniatures. From these I construct elaborate ecosystems that embody happiness and shimmer with color and life. A metal framework is decorated in a series of interwoven neighborhoods of clustered forms, with tiny animals prowling around the joyful sprays of beads and flowers.
From a distance, the piece could be a glimmering planet or magical formation discovered on a walk. Draw closer, and discover how communities of objects flow into each other, presenting new aspects and interactions from every angle. Become calm and focussed by this observation, from the full realm down to the smallest bauble.
Colorful, twinkling LED lights illuminate each piece; with or without the lights activated, your Visual Confection will enhance your space with a vibrant palette covering the whole spectrum.
My working methods express the calmness and joy that comes from the contemplative act of arranging objects. Rather than being sorted into strict categories and taxonomies, the tiny materials enjoy the freedom of intuitively ordered worlds. The resulting decorative environments, with names drawn from the writings of composer Erik Satie, are designed to be experienced both close-up and at a distance."
Linda Gale Aubry