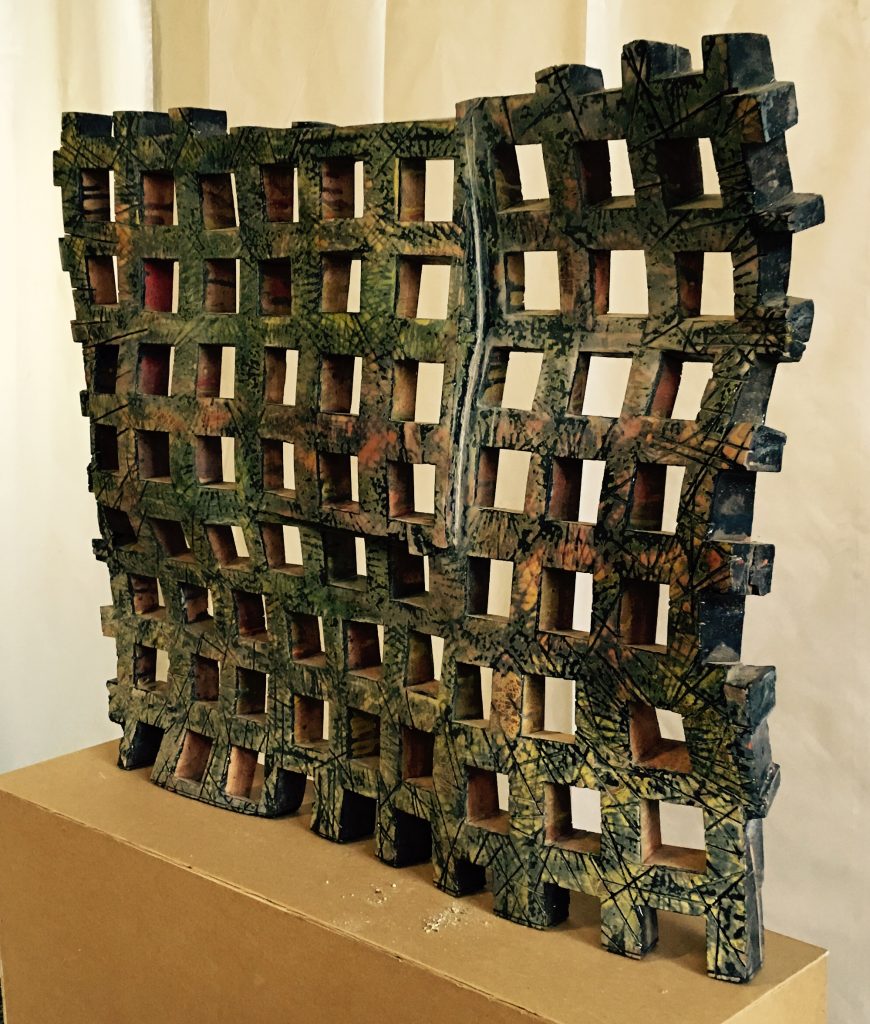 David Blair exhibits "Modern Ruins," a series of sculptural works at the Easthampton City Arts+ Gallery from Oct 5 to Oct 25. The opening reception coincides with Scenes on Site Art Walk Easthampton on Saturday, Oct 8 from 5-8PM. This exhibit is free and open to the public.
Blair's "Modern Ruins" is a harsh and angular body of work made from found objects. Comprised of sharp edges and thick warped grates of metal, the series projects an immutable yet transient air, in that the pieces appear to be in the process of degradation or parts of debris. There is also a juxtaposition of delicacy to his work in the balance of seemingly heavy metal pieces atop slender pointed pieces of wood.
Blair's work is heavily influenced by the narratives of displacement and refugee life. His work draws specifically on images of floods, earthquakes, war zones, sites of bombings and aerial images of Berlin in 1945, literally, the ruins of modernity. The cycle of creation and destruction mirrors his individual artistic process. He uses scraps from his own works along along other found objects as his primary material.
"The things that are made by people are unique in the world. What is it that makes human-built things unique?" Blair believes that such avenues of inquiry are timely, given the advance of automated processes and continues to devise experiments in fabrication.
Originally from Manchester NH, Blair lived in Boston as a young adult working days at various jobs; architectural model maker, a prototype tech, a boat builder, and a stone cutter and attended Art school at night. He holds a Masters of Industrial Design from RISD. Blair worked under installation artist Richard Fleischner in Providence and Manhattan. He has exhibited locally, and has several installations planned for the coming year.
The ECA+ Gallery is located in Easthampton's Old Town Hall at 43 Main Street, Easthampton, MA. The gallery is open Tues to Thurs from 12p.m. to 6p.m. For more information, please see EasthamptonCityArts.com, or visit the artist's website at animalbuilt.com.
Art Walk Easthampton happens the second Saturday of every month from 5-8 pm. Locations throughout Easthampton host free visual, music and performance art events in an energetic sampling of local, regional, and national talent. See easthamptoncityarts.com/artwalk for more information.