Call for Entries: Art in the Orchard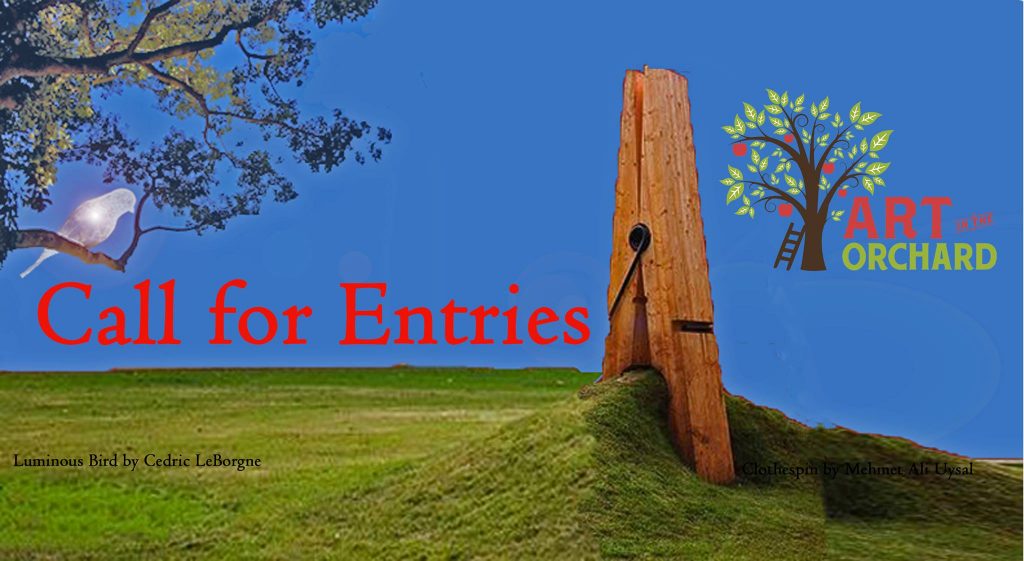 Art in the Orchard (AiO'19) at Park Hill Orchard is seeking proposals for outdoor sculptures and installations.
Art In the Orchard (AIO) is seeking sculptures and installations for its 5th biennial outdoor sculpture exhibition at Park Hill Orchard in Easthampton, MA. This biennial will feature 30 works and is expected to draw upwards of 30,000 visitors between August 10th and the end of November. Selected artists will receive a $500 honorarium (totaling $15,000). In addition one or more short term residencies are available for site specific work.
Sculptures will be installed along a walking trail that meanders around the working orchard. The setting offers exhibitors wide open spaces for large scale works and more intimate settings for others. Trees can be used to hang mobiles.
This year the AiO team is looking for sculptures that resonate with their public; such as those containing elements of whimsical, absurd and surreal, and those that elicit emotional responses. Works created just for this event are appreciated by the jury as are site – specific installations and kinetic works. "Nothing is off the table and we stand ready to work with the artists to move, create and install great concepts" says AiO board member and orchard owner Russell Braen.
Some of the 30,000 AiO attendees have artistic backgrounds, while many others may not normally seek out fine art for their afternoon outing. Mixing the historical New England Pick-Your-Own experience with the stimulation of outdoor art creates new experiences and perspectives for many and is part of the appeal and success of AiO. As filling a bag of apples doesn't take long; families typically spend far more time engaging with the sculptures.
Confirmed sculptors and other creative people: this is your chance to showcase your creativity to tens of thousands of visitors in one of the most beautiful artistic venues in the region. To apply, visit http://artintheorchard.org/apply. We are looking forward to your creative submissions and please let others know about the upcoming 5th biennial Art In the Orchard.
Find more information and the application at: http://artintheorchard.org/apply