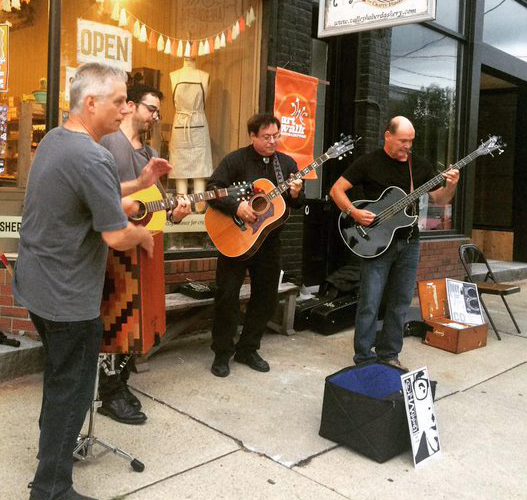 Easthampton, Mass. – September's Art Walk will fill Easthampton's Union Street and downtown area with street musicians and performers for a Busking Central themed evening on September 10 from 5 – 8 PM. All are welcome to walk the streets, listen to music and watch performers. Tipping is encouraged.
The evening will feature a diverse selection of music such as improvisational saxophone, acoustic folk, swing, jazz and country. There's even a 'Fortune Yeller" thrown into the mix.
Performers and Musicians include Chris Gentes, Evan Ray, Fissure Cat, Crimson Canary, Chris Eriquezzo, Estella Star, Binaural Beat Brothers, Banjo Assault, Claire Dacey, Marty Mirabal, Dan Russell, Seth Lepore, Izy Coffey, Van Kolodin and Tony Silva.
A full schedule of performer locations and times will be published prior to Art Walk and maps will be available the day of the event. In the case of rain, Performers will move to Eastworks. In addition to the busking performances, Art Walk Easthampton venues will host a wide-range of events, workshops, and exhibition openings.
Art Walk Easthampton happens on the second Saturday of every month from 5-8 pm. Locations throughout Easthampton host free visual, music and performance art events in an energetic sampling of local, regional, and national talent. See artwalkeasthampton.org for more information.
Easthampton City Arts+, formed in 2005, enriches lives through the integration of arts, culture and community and promotes revitalization and protection of Easthampton's cultural assets. ECA merged with the Easthampton Cultural Council & Art Walk Easthampton to form ECA.