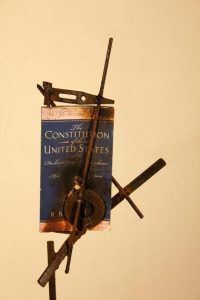 Book Arts Show, "ALTERED BOOKS" Comes to MAP (Mill Art Project), April 4-27, 2016. John Landino curates this exhibit that will feature book arts works by local and national artists. A retrospective of Landino's 30 years, "Iron Bound Series" will be on view. The opening reception will occur on Friday, April 8 during Art Walk Easthampton and the Easthampton BookFest. In addition to the opening reception, the exhibition will have ongoing activities and events on "Book Arts Wednesdays" from 5-8PM.
LIST OF EVENTS:
April 6: Preview
April 13: Public Book Happening and Reading
April 20: Artist Talk, Round Table Discussions with Artists and Public
April 27: Closing Party and Artist Pick-up
MAP is located in Eastworks, 116 Pleasant Street, Rm #137 Easthampton. The Mill Arts Project is a collaboration between Easthampton City Arts+ and Eastworks that offers gallery space to incubate new curatorial voices in a community context. While curators bring a vision and dedication, Eastworks and ECA+ assist with space and offer an intensive educational curatorial and organizational guide as well as assistance in project direction.
Gallery hours: Monday, 4/18 1-4 pm, Wednesday 4/20 1-8:30 pm, Friday 4/22 2-6 pm, Monday 4/25 1-3 pm, Tuesday 4/26 1-3 pm, Wednesday 4/27 – artists pick up work.