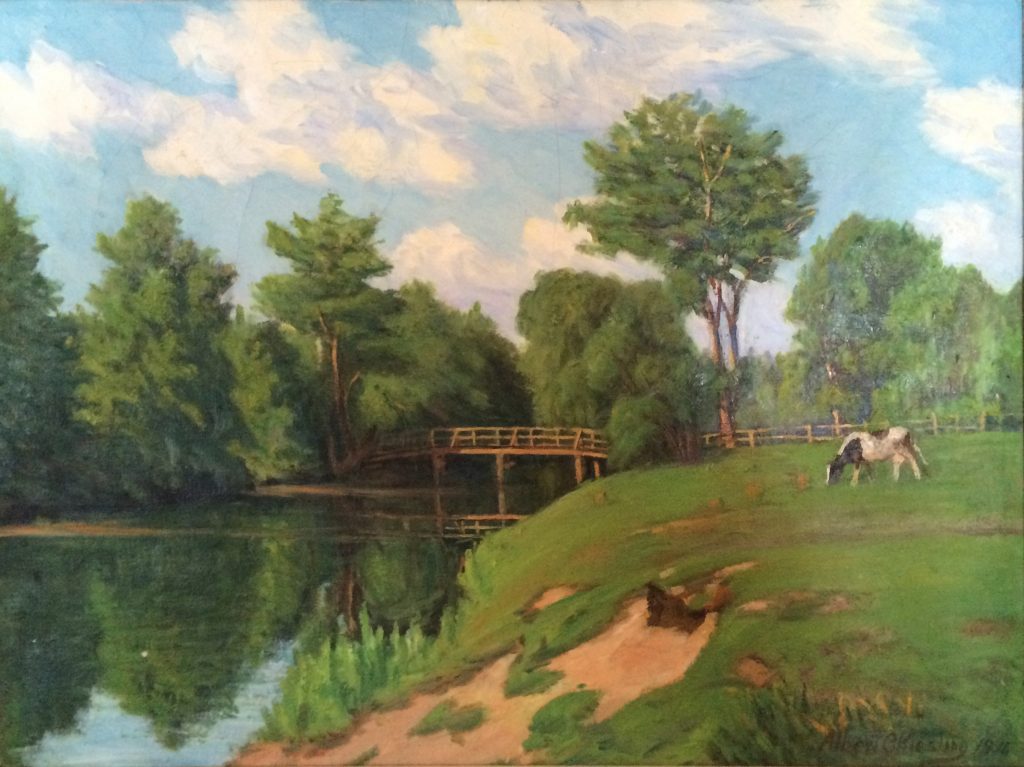 Paintings by Albert G. Kiesling (1885–1968) will be exhibited at MAP (Mill Art Project), July 5th – August 13, 2016. The Opening Reception coincides with Art Walk Easthampton on Saturday July 9, from 5-8PM. The exhibition is free and open to the public. Most works are for sale.
Kiesling was born in Clinton, MA. As a young adult he moved to Easthampton to work at the textile mill, Hampton Co. as a quiller. He learned to paint through a friendship with Oscar F. Adler, (1868–1932) a well-known American Expressionist painter. Adler's work is represented in the exhibit.
Kiesling's favorite subjects were rural landscapes with horses or cows and local waterways. He also painted many historic buildings in the area, documenting some that are long lost to history, such as the original Williston Campus on Main Street, the old train depot and Emily Williston Memorial Library, all in Easthampton.
He did not own a car and walked long distances carrying his easel, palette and canvases, obtaining folklore status from older locals who's childhood memories include Kiesling painting at some of his favorite sites in Easthampton, Southampton and Westhampton.
List of Events
July 5: Exhibit opens
July 9: Opening Reception 5-8PM during Art Walk Easthampton
August 13: Closing Reception 5-8PM during Art Walk Easthampton
MAP is located in Eastworks, 116 Pleasant Street, Rm #137 Easthampton, MA. The Mill Arts Project; a collaboration between Easthampton City Arts+ and Eastworks, offers gallery space to incubate new curatorial voices in a community context. While curators bring a vision and dedication, Eastworks and ECA+ assist with space and offer an intensive educational curatorial and organizational guide as well as assistance in project direction.
For More Information:
Julie Rosier / Arts Coordinator, Easthampton City Arts+
43 Main Street, Easthampton, MA 01027
artseasthamptonorg ~ 413.529.1425