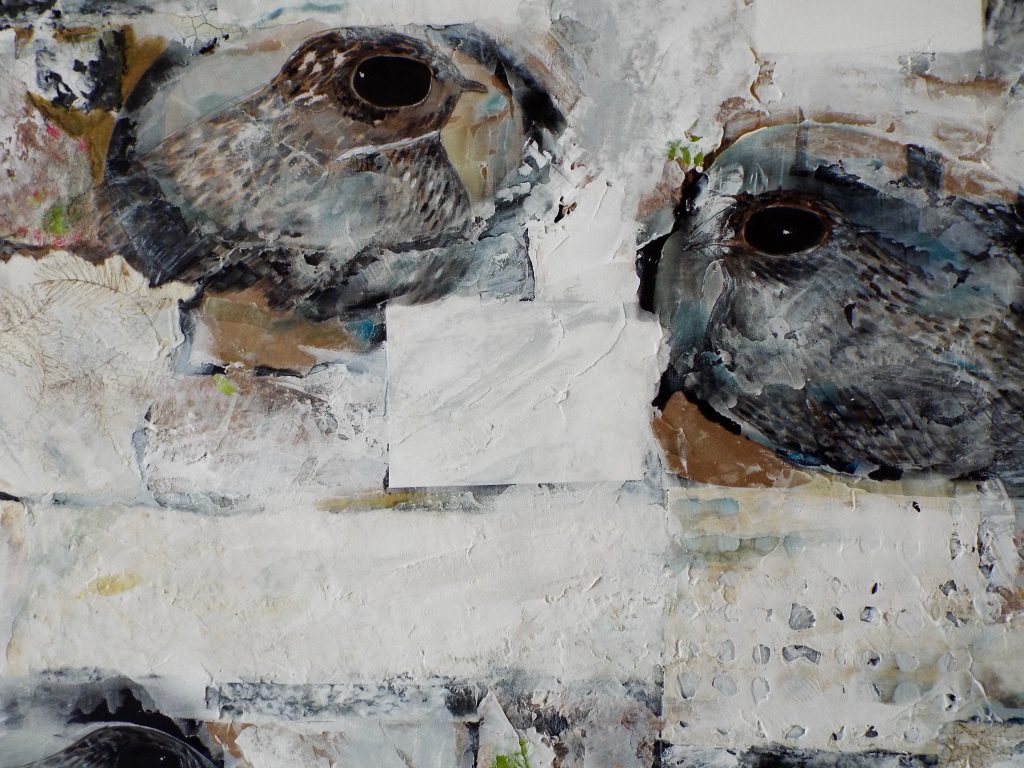 Lynn Sisler exhibits "Migration Stories and Other Curious Lore," a dynamic collection of mixed media, Raku fired ceramics and acrylic works at the ECA+ gallery from Aug 3 to Aug 26. The opening reception coincides with the August Art Walk "Know Thy History: Easthampton Lore" on Aug 13 from 5-8PM. This exhibit is free and open to the public.
Sisler's "Migration Stories" is a visceral and tactile exploration of the relationship between humans and their kinship to nature. Her collection of specimen birds, fired with Raku and other glazing techniques giving her birds organic yet vibrant tones, highlights the importance of wildlife conservation efforts. In her paintings, Sisler uses a wide color palette and layering method which blurs the space between reality and fantasy. Each of her pieces encapsulates its own narrative through her artistic process and exploration of a diverse set of materials.
Sisler researched ancient narratives about animals, birds in particular, to guide her work. She was especially intrigued by historical theories about bird migration. Her deep relationship with nature is fostered by her interest in the beauty and mystery of the natural world. Sisler's understanding of the modern departure between humans and nature informs her work and spurs her investigation of the relationship between past and present.
Lynn Sisler was born in Rockford, Illinois and spent more than 20 years in Decatur, Georgia. She received her BFA in painting and a minor in Art History from Northern Illinois University in 1991. Several of her works have been chosen for group shows and she received a special merit award for one of her pieces in 2013. Now, Sisler lives and creates her art in the Massachusetts Pioneer Valley. Sisler's exhibit at ECA+, "Migration Stories and Other Curious Lore" will be her first solo show.
The ECA+ Gallery is located in Easthampton's Old Town Hall at 43 Main Street, Easthampton, MA. The gallery is open Tues to Thurs from 12 p.m. to 6 p.m. during the summer. For more information, please see EasthamptonCityArts.com, or visit the artist's website at www.lynnsisler.com.