Industrial Romance at MAP GALLERY at Eastworks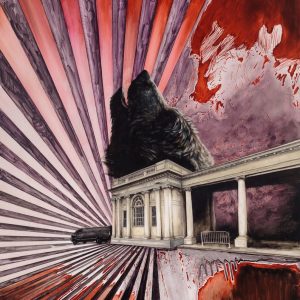 This exhibition will comprise of drawings and sculptures by Aaron Miller and Gwyneth Scally. This collection explores two versions of the effects of the Industrial Revolution and its powerful legacy of national identity and cultural division. Miller, the son of Wyoming coal miners, examines the relationship between the coal industry and the luxuries of the Robber Barons of the Industrial Revolution. Scally, daughter of a journalist who covered environmental legislation in the United States Senate, explores the relationship of the American Romantic painters to the nascent environmental movements that developed in response to industrialization.
Together, the two artist create a sympathetic dialogue across cultural and geographic divisions. This dialogue is sorely lacking in the current cultural and political climate. These artists examine the historical seeds of current cultural attitudes, sewn over a hundred years ago, in an attempt to understand their own backgrounds and experiences.
For this exhibition, Miller's work will include reproduction antique Queen Anne chairs, carved out and excavated to resemble the pit mines of the American west, as well as graphite drawings, flocked with coal dust, and depicting chimera figures of coal miners combined with aristocratic portraiture. Speaking of this series, Miller says, "I am interested in building a world that evokes the history of power and luxury in America. The world I create builds on symbolic representations of class, including high-end furniture, fabrics, and other decorative goods. These signifiers of class stem from American industrial wealth and resources such as coal and oil. In my artistic process, I start with a symbol and deconstruct it, excavating reality, embedding coal, tar and oil as a way to portray the gritty truth of luxury and the hidden sources of economic power."
Scally's drawings include a large-scale representation of the painter Church's famous studio at Olana (Church, like Bierstadt and Cole, created grand- or grandiose- depictions of American wildernesses). Other works on display will include sculptures that hybridize images of nature with synthetic geometric forms, suggesting the upending of the Arcadian dream in the era of industrialization. The artist says that her "current work investigates the historical underpinnings of our attitude towards the natural world, as well as our contemporary methods of experiencing it. Recent residencies in the Hudson River Valley have allowed me to extensively research the work of the American Romantics- Cole, Church, etc.- and their reaction to the increasing urbanization of the Industrial Revolution. The escapist impulse of these artists' work, and their idealized visions of nature, echo in the contemporary advertising imagery used by major companies such as Eastern Mountain Sports, as well as in the managed experience of our city parks and curated urban green spaces. By questioning the degree to which we accept the mediation of Nature I point out our catastrophic disassociation from the actuality of the natural world".