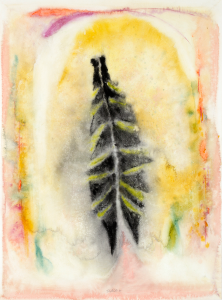 ABSTRACTION AND RESOLUTION: Three Artists Explore the Edge of Visual Reality
Artists, John N. Colt, Ruth Kjaer and Faith Lund exhibit "Abstraction and Resolution", an exhibit of paintings joined in commonality by their shared process and vision of the edges between abstraction and the visual resolution of reality, at the Easthampton City Arts+ Gallery from November 2 to November 21, 2016. The opening reception coincides with Art Walk Easthampton on Saturday, Nov 12 from 5-8PM. This exhibit is free and open to the public.
John N. Colt (1926 – 1999) was a professor of art at the University of Wisconsin, Milwaukee for over thirty years and a prolific artist. He exhibited frequently in top museums and left his influential vision to many, among them Lund and Kjaer.
Faith Lund is professor of art at Westfield State University and the WSU Gallery Director, both her teaching skills and painting evolution is strongly influenced by John Colt, her professor in Grad School at the University of Wisconsin. "He was a major influence on my work and continues to be to this day".
Ruth Kjaer and John Colt were married and their time was split between Milwaukee, Wisconsin and a small home in Haiti. "Every day was an exchange of ideas on art. Quite often I utilized many of his techniques in my own work…my work has evolved into other realms since his death, I find that I circle back to inspirational ideas that originated with John".
Many of the painings in the exhibit lean more to abstraction and share Colt's technique of applying multiple layers of transparent color creating depth, richness, and vibrancy. Due to the transparency the viewer is drawn beyond the surface and into the painted action itself, the contrast and subtle transitions reveal an infinite world of interactions and a new way of seeing.
The ECA+ Gallery is located in Easthampton's Old Town Hall at 43 Main Street, Easthampton, MA. The gallery is open Tues to Thurs from 12pm. to 6pm.
Art Walk Easthampton happens the second Saturday of every month from 5-8 pm. Locations throughout Easthampton host free visual, music and performance art events in an energetic sampling of local, regional, and national talent. See artwalkeasthampton.org for more information.