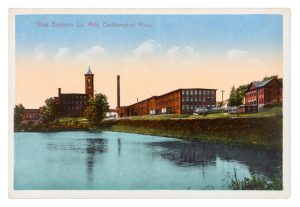 Through July 2017 at MAP Gallery // Suite 137, Eastworks 116 Pleasant Street, Easthampton MA The New City neighborhood of Easthampton was built in the late 19th century. The densely populated side streets and row houses were built by West Boylston Manufacturing Co., which occupied the Pleasant Street Mills at the time. The neighborhood was developed during the Industrial Revolution in response to a boom in housing demands from an influx of immigrant families who came to work in the local mills. Industrialization transformed a small rural community into bustling manufacturing town. In the later half of the 20th century, a national decline in manufacturing caused the social fabric of historically industrial cities like Easthampton to shift drastically.
As a project, New City is an ongoing, multimedia exploration of current and historical narratives in Easthampton. By combining new and archival media, the project offers a document of present day people and places within the context of the city's industrial, creative, and diverse history.
By connecting the present day population and landscape with the larger historical narrative, this project intends to document and contribute to the ongoing narrative of Easthampton as it progresses into the 21st century.